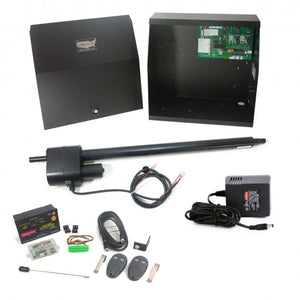 USAutomatic 020015 Patriot I A/C Charged Single Swing Operator (Includes Photo Eye, LCR Receiver and 2 Transmitters)
Looking for a reliable swing gate opener? The Patriot I makes a great addition to residential locations, light commercial uses, and farms. It opens single swing gates in a fast 12 seconds! Features include reliable battery backup, built in timer to close, and independent Gate 1 and Gate 2 sensitivity adjustment.
This gate operator is A/C charged and includes a receiver with two transmitters. Made in the USA!
Features:
Included Photo Eye
For single swing gates up to 16 ft and 650 lbs
Made in the USA
Warranty: 5 year control board / 3 year all other components
2 - LCR 2 button transmitters Included
Pre-wired solar friendly LCR dual channel receiver
Same control board for Single, Dual or Slide operator
Solar or AC charged with solar friendly Smart charge controller
Designed to operate with all types of solar friendly accessories without adding solar panels
Independent Gate 1 and Gate 2 sensitivity adjustment
Soft stop selectable for swing or slide operators
Battery powered providing real battery backup. Not 1 cycle
Built in Timer to Close
Photo Eye Power Management (PEPM) solar friendly software
For Residential, light commercial, farm and ranch use
Fast ~12 second cycle time (90 degree opening)
Danaher 24" linear actuator delivering 500 lbs of dynamic thrust and a static hold load rating of 1000 lbs
Single or Dual gate compatible